FENC wins the Best Issuer and Deal of the Year for 2022 Country Awards for Sustainable Finance and Sustainable Capital Markets Awards at The Asset
From:Far Eastern New Century
Far Eastern New Century (FENC) has been acting as a pioneer and model enterprise in sustainable finance. It was recognized for its exceptional performance by The Asset, a well-known international financial magazine, and won 4 awards at the 2022 Triple A Country Awards for Sustainable Finance and Triple-A Sustainable Capital Markets Awards including Best Issuer (Taiwan and North Asia), Best Blue Loan in Taiwan, and Best Sustainability-Linked Bond in the manufacturing industry.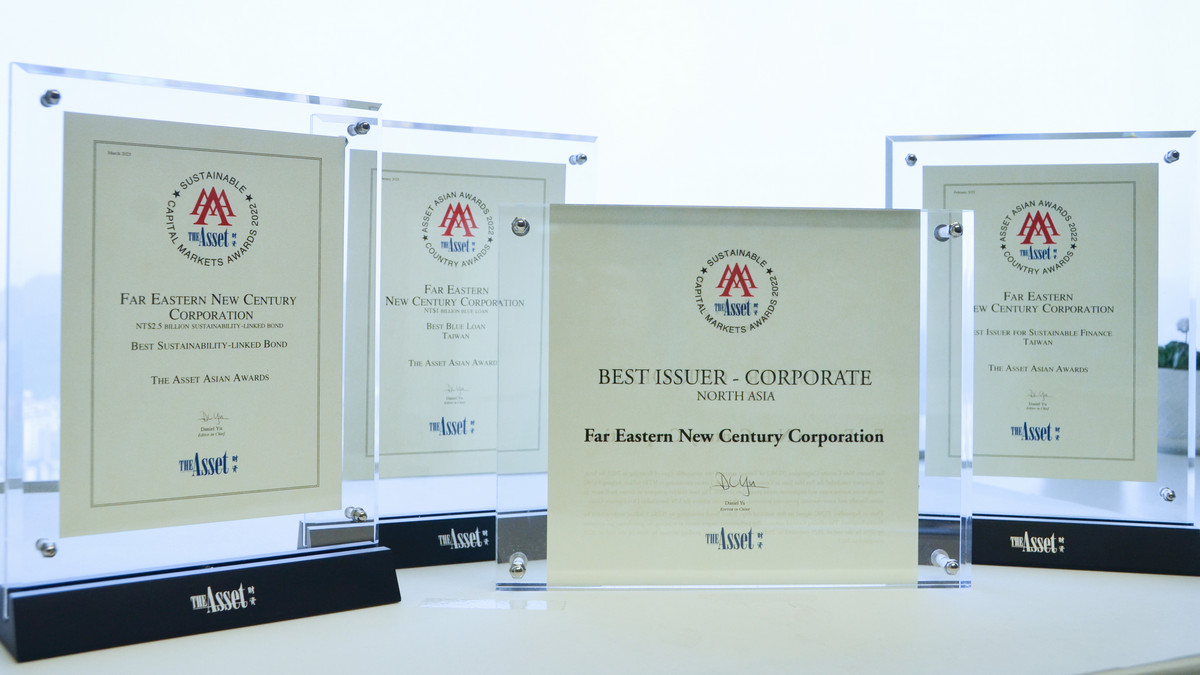 "As global citizens facing the threat of global warming, FENC actively aims at promoting various carbon reduction actions, taking the initiative to shoulder corporate social responsibility and fulfilling the commitment to sustainable development", said Douglas Hsu, Chairman of FENC. To actively advocate the government's policy and pathway in sustainable finance, FENC and TPEx (Taipei Exchange) launch the debut Sustainability-Linked Bond (SLB) in 2022. In the Framework for Sustainability-Linked Bond, "greenhouse gas emission reduction" and "green product revenue growth" are selected as Key Performance Indicators (KPIs) and set as Sustainability Performance Targets (SPTs), to echo the trend of net zero carbon emissions globally. The deal has won support from securities houses and investors, successfully raising NT$2.5 billion, becoming Taiwan's first sustainability-linked bond with the largest issuance volume. In March of 2023, FENC issued a Green Bond of NT$ 2.5 billion for green eligible projects in its Framework of Sustainable Bonds. UP to currently, FENC has issued sustainable bonds with a total amount of NT$13.9 billion, becoming the only enterprise in Taiwan to be accredited and has issued in debut for four types of sustainable bonds. FENC is also the only enterprise in the world that has registered four types of sustainable bonds in the Sustainable Bonds Database at International Capital Market Association (ICMA).

By viewing FENC's roadmap of ESG development, Humphrey Cheng, Corporate Management President of FENC, believes that the critical difference between FENC and other companies is the transitional change resulting from the core competence that drives product transformation between self-owned supply chain and ecological circle. FENC has been endeavoring in promoting green products and currently is the top manufacturer of food-grade recycled PET in the world. Since 2016, it has cooperated with international brands and NGOs to develop ocean recycled yarn projects, providing 9 national teams with "ocean recycled anti-bursting jerseys" in 2022 FIFA, establishing the sustainable image of brand customers and the company. FENC also utilizes the technology of carbon capture to reproduce the world's first environmentally friendly fabric, well accomplish the unique circular economy business model from land, sea and air.
"Sustainable finance has become the trend of the environment. There is only one way to move forward without the point of return", said David Wang, CFO of FENC. With embedded DNA of innovation, we strive to enhance the sustainable finance initiatives through the implementation of the company's sustainability strategy, connecting the fundraising with the company's business units with the proceeds into all the eligible ESG use into a positive loop to achieve the ultimate sustainability development goals (SDGs). It is hoped that through various pioneering initiatives, more and more companies will participate in the initiatives to make the sustainable finance market more vivid and growing, further creating a win-win situation among enterprises, stakeholders and the market.