FENC Receives First Prize from Global Views Monthly ESG Awards in Manufacturing Industry and Low Carbon Operation Categories - Setting the Standard for Sustainability in Taiwan!
From:FENC
Far Eastern New Century Corporation (FENC) has won two honorable sustainability awards this year by the Global Views Monthly; One is a First Prize for the ESG Performance category in manufacturing industries, and the other is a First Prize for Excellent Program in the low carbon operation category. The Chairman, Douglas Tong Hsu, attended the ceremony in person on May 3, 2023 to accept the awards and deliver a speech.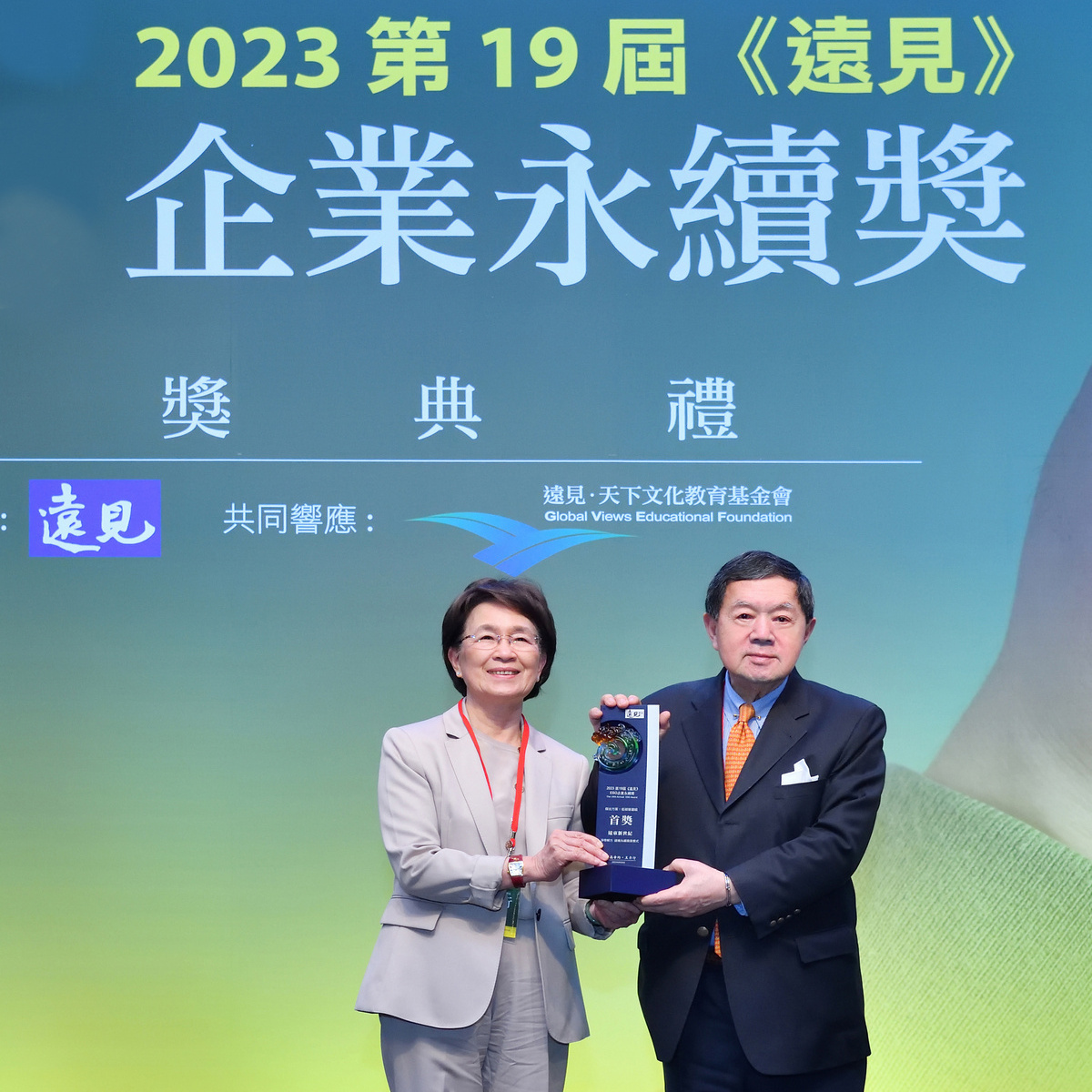 FENC is a global leader in polyester materials and circular economy with a vertically integrated production-sales structure and regional supply chain advantages to market high-performance products worldwide.
With its outstanding performance in the circular economy, FENC has been ranked first in the global plastic industry circularity ranking announced by the Minderoo Foundation in Australia in 2023. The Foundation's research team gave out the highest score to the Company, observing that FENC has developed a comprehensive strategy for circular operations, and its governance executives attach great importance to sustainability and circular initiatives with aggressive targets, resulting in fast-growing production in recycled products, outperforming 400 plastic companies worldwide.
In pursuit of climate resilience, FENC published its first Climate-related Financial Disclosure Report (TCFD Report) in March 2023. This report is also the first in Taiwan to follow the IFRS S2 Climate-related Disclosure. In addition, FENC joined the Science Based Targets initiative (SBTi) in March 2023, committing to achieving near-term and net-zero targets by following a 1.5°C pathway, setting the most ambitious targets among peers. To achieve a 40% reduction in GHG (greenhouse gas) emissions by 2030, the Company plans to invest a total of NT$ 19.4 billion, reducing 1.32 million metric tons of CO2e and striving to implement a decarbonization pathway and build a green and low-carbon operation model.
In 2022, FENC took the lead in collaborating with the government to promote Sustainability-Linked Bonds (SLB), becoming the only company globally to issue four types of sustainable bonds listed in the Sustainable Bonds Database of the International Capital Market Association (ICMA). Together with its domestic and overseas subsidiaries, FENC actively embraced the concept of sustainable finance, raising a total of over NT$ 38 billion in funds.
In the same year, FENC set up the Information Security Department, to be responsible for various information security management initiatives and appointed a senior executive as the Chief Information Security Officer for constructing a cross-functional information security framework to ensure integrated protection measures.
FENC continues to enhance its commitment to human rights by conducting Human Rights Due Diligence covering both domestic and overseas operation sites in 2022. The Company formulated policies to engage with local communities and conducted future impact assessments on various issues. Corresponding measures with multiple quantitative management goals were established for risk mitigation and rectification. The company also reported its progress annually to the Board of Directors in this regard.